Stingray City Grand Cayman
Scuba Dive Stingray City
This is an unforgettable and the total Cayman experience- it's a Cayman diving must do! Nowhere else in the world can you interact with these amazing creatures in the same way. It doesn't matter your age or ability, we have a Cayman diving trip for you! All of our stingray city trips are safe, informative and an unforgettable adventure for everyone.
Stingray City Sandbar
Take a short boat ride to the sting ray city sand bar in Cayman's north sound. The crystal clear turquoise water is waist deep, making it perfect for all ages and abilities of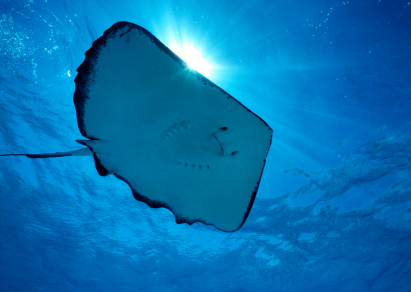 Cayman diving enthusiasts, masks and snorkels, or you can simply stand in the water and the graceful southern sting rays will gently pass by as they look for food. You will get the chance to stroke, hold, and even kiss a sting ray or just sit on the platform while we gently bring one to you. NO WORRIES is our motto! No matter what your confidence level, you will have memories like no other. Once you have enjoyed the sand bar we will take a short journey to a beautiful snorkel site where the reef is teeming with fish so close you can almost touch them.
Cayman Diving at Stingray City Dive discover scuba
The best 12ft dive in the world! This is the site of the original feeding area providing an amazing Cayman scuba diving experience interacting with southern sting rays. This site can be combined with any of our trips but our basic one stop Cayman diving trip is perfect for all levels. Sting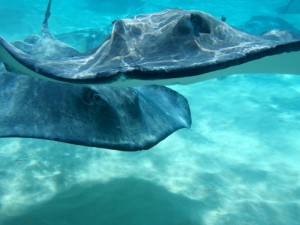 rays will greet you as soon as you hit the water and you will get to touch and interact with these amazing docile creatures. The other marine life is accustomed to the free meal so you are surrounded by schools of tropical fish. If you are lucky, you will get to see our resident green moray that has become friendly and comfortable with divers. This offers the chance for some unbeatable pictures that will have every one asking 'where did you get that photo?' After feeding the sting rays, the surrounding coral heads make for a perfect Cayman diving experience. The water is calm and shallow making it ideal for snorkeling too. You can just float above the divers and we will bring a sting ray right to you.