PADI Rescue Diver
Take a step toward emergency preparedness and meet PADI Rescue Diver prerequisites with Emergency First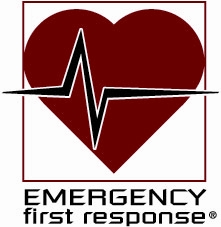 Response.
As one of the foremost international CPR and first aid training companies, Emergency First Response gives you the confidence to respond to medical emergencies -- not just in the diving world, but in your every day world with your family, friends, neighbors and coworkers too.
Emergency First Response courses encompass:
CPR courses for adults, children and infants
First aid for adults, children and infants
Automated External Defibrillator (AED) training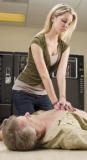 The PADI Rescue Diver Course
"Challenging" and "rewarding" best describe the PADI Rescue Diver course. Building upon what you've already learned, this course expands on what you already know about how to prevent problems, and how to manage them if they occur.
The Fun Part
The fun part about this course is rising to challenges and mastering them. Most divers find this course both demanding and rewarding, and at the end, say it's the best course they've ever taken.
What You Learn
Self rescue
Recognizing and managing stress in other divers
Emergency management and equipment
Rescuing panicked divers
Rescuing unresponsive divers
The Learning Materials You Need
The PADI Rescue Diver crewpak includes all materials required to complete the PADI Rescue Diver course – including a pocket mask. You'll learn how to think like a rescue diver and preview skills you'll practice with your PADI Instructor. Once your Rescue Diver course is complete, you can review the DVD to refresh your dive safety skills as needed. This tool box of knowledge and technique will give you the expertise to handle almost any emergency situation.
Prerequisites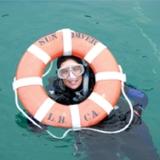 To enroll in the PADI Rescue Diver course, you must
Be 12 years or older
Have a PADI Adventure Diver certification (or have a qualifying certification from another organization)
Be trained and current for first aid and CPR within the previous two years (Ask your instructor about Emergency First Response CPR and first aid courses).

PADI Divemaster Coarse
Divemasters Wanted! Join the Tribe!
Do you have a deep and abiding passion for diving? Or, do you merely love it with all of your heart?  If so, you should consider doing what you love for a living: become a PADI Divemaster.

When you Join the Tribe™ by becoming a PADI Divemaster, you align yourself with the largest and most respected dive tribe in the world—that of PADI Professionals. These are PADI Divemasters and Instructors sharing a passion for diving and an active concern for the health of the world's underwater habitats.  
PADI Divemaster Course
Looking for the first step in working with scuba as a career? Your adventure into the professional levels of recreational scuba diving begins with the PADI Divemaster program. Working closely with a PADI Instructor, in this program you expand your dive knowledge and hone your skills to the professional level. PADI Divemaster training develops your leadership abilities, qualifying you to supervise dive activities and assist instructors with student divers. PADI Divemaster is the prerequisite certification for both the PADI Assistant Instructor and PADI Open Water Scuba Instructor certifications.
What You Learn
During the PADI Divemaster program, you learn dive leadership skills through both classroom and independent study. You complete water skills and stamina exercises, as well as training exercises that stretch your ability to organize and solve problems as well as help others improve their scuba. You put this knowledge into action through a structured internship or series of practical training exercises.
As you progress through your Divemaster course, you'll expand your diving knowledge, hone you skills and increase your confidence. Then, as a PADI Divemaster, you'll use these attributes to lead, mentor and motivate other divers and experience the joy of seeing them transformed by the majesty of the the acquatic realm.
What You Can Teach
After becoming certified as a PADI Divemaster you will be authorized to:
Supervise both training and non-training-related activities by planning, organizing and directing dives
Assist a PADI Instructor during the training sessions for any PADI Diver course
Conduct the PADI Skin Diver course and PADI Discover Snorkeling program
Conduct the PADI Discover Local Diving experience
Conduct the PADI Scuba Review program
If qualified as a Discover Scuba Diving Leader, independently conduct the PADI Discover Scuba Diving program.
Earn the PADI Digital Underwater Photographer Specialty Instructor rating to be able to teach the PADI Digital Underwater Photographer specialty.
Independently guide Open Water Diver course students on the tour portion of Open Water Diver course Training Dives 2, 3 and 4 at a ratio of two student divers per certified divemaster.
Accompany Open Water Diver students under the indirect supervision of a PADI Instructor during:

surface swims to and from the entry/exit point and during navigational exercises
when the instructor conducts a skill, such as an ascent or descent, a Divemaster can remain with other student divers (with an individual student or buddy team)

 
Accompany student divers during Adventure Dives or Specialty training dives under the indirect supervision of a PADI Instructor.
Conduct the PADI Seal Team Skin Diver Specialist AquaMission
Conduct subsequent dives under an instructor's indirect supervision for Discover Scuba Diving participants after participants have satisfactorily completed the first dive with a PADI Instructor.
Teach Emergency First Response courses after successfully completing an Emergency First Response Instructor course.
At a glance, compare what you can teach when you continue your professional diver education.
The Scuba Gear You Use
You use all the basic scuba equipment and some scuba accessories such as a dive slate, dive knife, compass, dive watch, etc.
It is highly recommended that you own all of your own scuba equipment, as familiarity with personal gear improves general scuba diving skills. You can find most everything at your local dive shop 
 The Learning Materials You Need
The PADI Divemaster crewpak includes everything you'll need to start the PADI Divemaster program. The complete set of materials includes:
The Encyclopedia of Recreational Diving - a comprehensive overview of diving physics, physiology, and equipment.
Divemaster slates
PADI Divemaster Manual 
PADI Instructor Manual 
RDP Table or eRDPMLTM with associated instructions for use booklets 
PADI's Guide to Teaching (Optional)
PADI Diving Knowledge Workbook (Optional)
Scuba Tune-Up Guidebook (Optional)
You also have the option to take Divemaster Online and purchase the Divemaster eLearning Crew-Pak.
Prerequisites
To take this course, you must be:
Other Courses That Will Prepare You for Success as a PADI Divemaster
Here are some suggestions for other PADI courses that will help make you more successful as a PADI Divemaster:
 Search and Recovery (Highly recommended)
Deep Diver (Highly recommended)
Dive Theory Online 
Boat Diver 
Coral Reef Conservation 
Digital Underwater Photographer 
Emergency First Response Instructor 
Emergency Oxygen Provider 
Enriched Air Diver (You can even sign up for the PADI Enriched Air Course Online!) 
Equipment Specialist 
Night Diver 
Peak Performance Buoyancy 
Underwater Naturalist 
Underwater Navigation 

Get College Credit
You may be able to earn college credit for the PADI Divemaster course.